From DAW plug-in to iPad app, Sugar Bytes have designed something rather special for the digital mobile musician in Turnado. Hollin Jones gets mangling with this iOS processor powerhouse.
Sugar Bytes es bien conocido por su enfoque innovador plug-in de diseño, y el desarrollador alemán ha traído ahora sus habilidades para influir en la plataforma iOS con una versión de su sonido muy querido mangling Turnado procesador para el iPad. Al igual que muchas de las aplicaciones más importantes fueron viendo lanzado para la plataforma, es un poco más caro, pero su mucho más capaz.
La interfaz será muy familiar para cualquiera que haya usado la versión plug-in, pero aquí hay más opciones y herramientas que se podría esperar de una aplicación para iPad. Lo primero que usted querrá hacer es cargar un bucle, y viene con algunas grandes sonidos agrupados. Cargue uno y golpear el juego y usted encontrará que arrastra cualquiera de los diales de las ocho ranuras de efectos se aplicará de forma dinámica en este sentido al sonido. Hay cuatro X / Y almohadillas disponibles y cada uno se puede hacer para adherirse a permanecer en la posición en la que lo suelte o para saltar de nuevo a cero cuando se suelta. Esto significa que usted puede marcar efectos en forma permanente o perforar dentro y fuera sobre la marcha. Pulsando el botón rojo de restablecimiento devuelve todos los efectos a la posición de apagado al instante.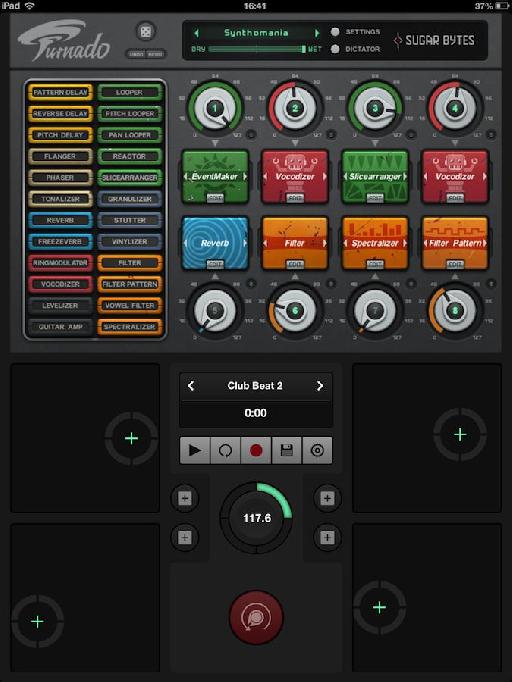 Las cuatro almohadillas permiten manipular las ocho ranuras de efectos en tiempo real y se pueden hacer pegajosa o libre.
Cada ranura efecto puede ser reasignado, simplemente arrastrando y soltando uno nuevo en la paleta de la izquierda, y si pulsa sobre un nombre efectos que puede elegir un valor preestablecido para tal efecto. También hay presets globales del curso, y un botón Randomize para insertar un conjunto completamente nuevo de efectos para que usted pueda mantener las cosas interesantes. Un potenciómetro general seco / húmedo, incluso permite equilibrar la cantidad de efecto que se aplica a nivel mundial.
Los efectos son excelentes, que van de cortadoras y loopers, tartamudeo, glitching, crujido, vocoder y muchos más. Todo se queda en el tiempo y theres incluso un reloj de tempo donde se puede arrastrar hacia arriba y hacia abajo para ajustar la velocidad de los bucles o un nuevo tempo pulg Pulse sobre el botón Editar efectos y revelar una sección de control total en la configuración detallada se pueden hacer para ajustar el efecto y esto es, por supuesto, guarda con los presets que decide guardar. La interfaz se puede ampliar también en este caso, lo que hace las cosas más fáciles para trabajar.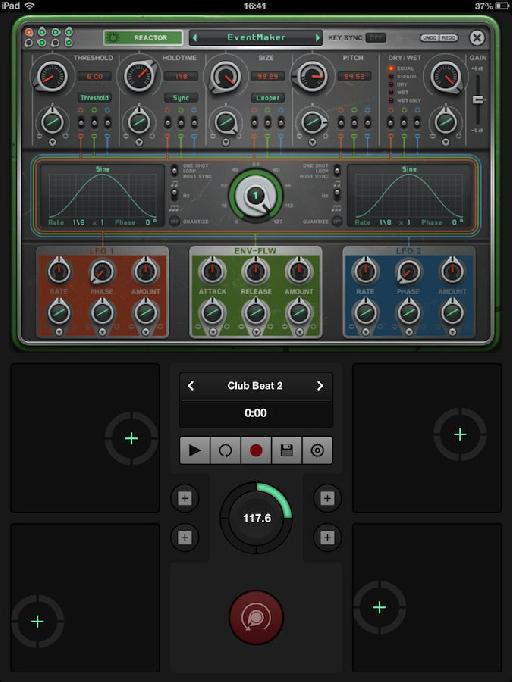 La sección Editar le permite ajustar el comportamiento de cualquier efecto y se puede acercar la imagen para tener una mejor vista.
Turnado tiene soporte MIDI para que pueda conectar un dispositivo o controlador MIDI CC y asignar a los parámetros y presione y mantenga presionado un control para utilizar MIDI aprender y crear sus propios mapas. En la sección Configuración, sino que también le permite sonido ruta de entrada y salida de forma dinámica por lo que puede procesar una señal externa, así como archivos de sólo audio. Se admite la copia de audio y pegar, y los archivos se pueden cargar desde iTunes en el iPad, loops grabados y exportados de nuevo a iTunes o pegado en otro lugar. En la actualidad sólo se puede grabar hasta 8 lazos de barras y cargar un archivo a la vez. Sería increíble ser capaz de cargar dos archivos y tienen una configuración más DJ-like. Theres también AudioBus y apoyo Jack.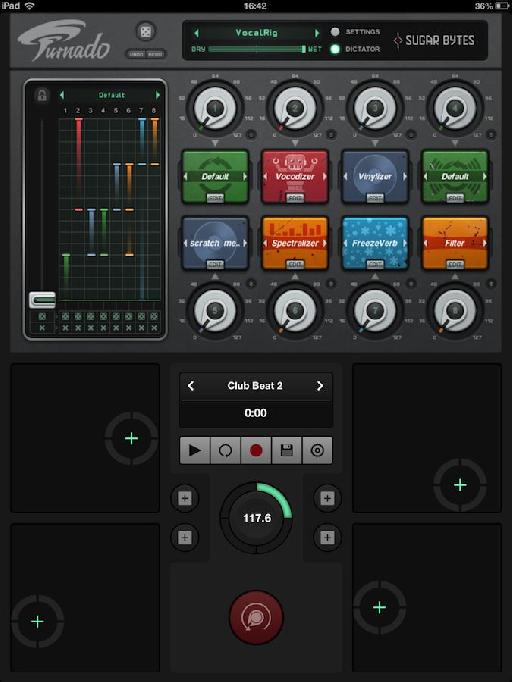 Utilice el modo de Dictador para controlar todos los efectos a la vez.
Turnado tiene otro truco bajo la manga, que es el modo de dictador. Aquí, usted puede ajustar los niveles de efectos en puntos específicos sobre una rejilla y luego usar un único fader de manipular todos a la vez, lo que es una herramienta de rendimiento muy bueno. Turnado es una herramienta increíblemente poderosa mangling audio para el iPad con una buena profundidad de las características de edición y algunas opciones de E / S inteligentes. La capacidad de trabajar con más de un bucle a la vez lo haría igual, y espero que esto se puede añadir en el futuro.
Web: