From DAW plug-in to iPad app, Sugar Bytes have designed something rather special for the digital mobile musician in Turnado. Hollin Jones gets mangling with this iOS processor powerhouse.
Bytes de açúcar é bem conhecido por sua abordagem inovadora para plug-in design, eo desenvolvedor alemão já trouxe suas habilidades para suportar a plataforma iOS com uma versão do seu som muito amado deturpação Turnado processador para o iPad. Como muitos dos aplicativos mais graves estavam vendo lançado para a plataforma, é um pouco mais caro, mas, em seguida, o seu muito mais capaz.
A interface será bastante familiar para quem já usou a versão plug-in, mas aqui há mais opções e ferramentas que você pode esperar de um aplicativo para iPad. A primeira coisa que você vai querer fazer é carregar um loop, e ele vem com alguns ótimos sons agrupados. Coloque um em cima e bateu o jogo e você vai achar que arrastando qualquer dos mostradores nos oito slots efeito será aplicado dinamicamente nesse sentido ao som. Há quatro X / Y almofadas disponíveis e cada um podem ser feitas para manter a permanecer na posição onde você liberá-lo ou para saltar para trás a zero quando lançado. Isso significa que você pode discar efeitos em permanente ou soco-los dentro e fora na mosca. Pressionar o botão vermelho de reset retorna todos os efeitos para a posição desligado instantaneamente.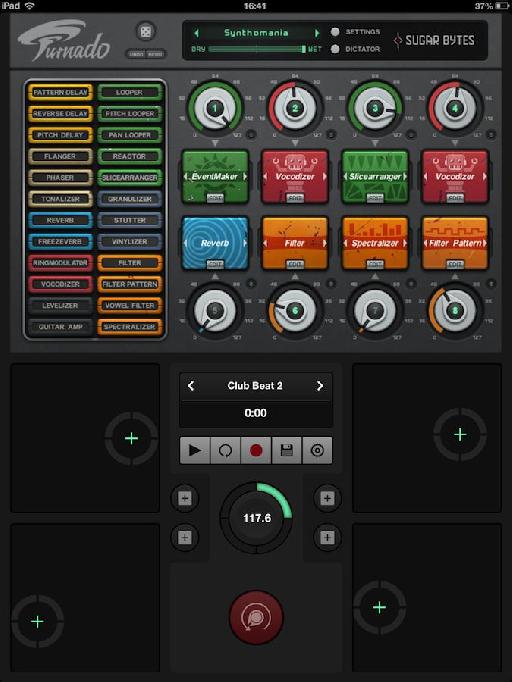 Os quatro almofadas permitem manipular os oito slots de efeitos em tempo real e pode ser feita pegajoso ou livre.
Cada slot efeito pode ser transferido simplesmente arrastando e soltando um novo a partir da paleta do lado esquerdo, e se você tocar em um nome de efeitos que você pode escolher uma predefinição para esse efeito. Há também presets globais do curso, e um botão aleatório para inserir um novo conjunto de efeitos para que você possa manter as coisas interessantes. A fader seco / úmido mestre ainda permite que você equilibrar a quantidade de efeito que é aplicado globalmente.
Os efeitos são excelentes, correndo a gama de cortadores e loopers, gaguejar, glitching, crunch, vocoding e muitos mais. Tudo permanece no tempo e há até mesmo um mostrador ritmo, onde você pode arrastar para cima e para baixo para ajustar a velocidade de loops ou toque em um novo tempo dentro Tap em quaisquer efeitos botão Editar e você revela uma seção de controle completo, onde as definições detalhadas podem ser feitas para ajustar o efeito e isso é, naturalmente, salvo com qualquer predefinição que você escolher para salvar. A interface pode ser ampliada, também aqui, fazer as coisas mais fáceis de trabalhar.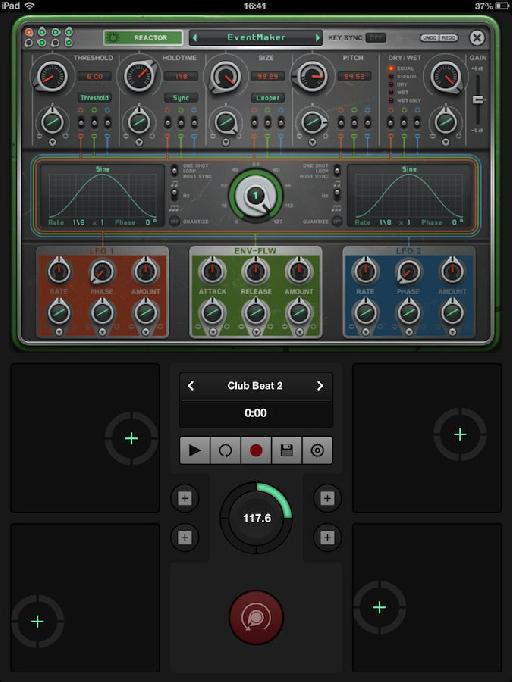 A seção Editar permite ajustar o comportamento de qualquer efeito e você pode aumentar o zoom para obter uma visão melhor.
Turnado tem suporte MIDI para que você possa conectar um dispositivo ou controlador MIDI CCs e atribuir a todos os parâmetros e toque e segure em um controle para usar MIDI aprender e criar seus próprios mapas. Na seção Configurações, ele também permite que você rota de som dentro e fora de forma dinâmica para que ele possa processar de sinal externo, bem como arquivos de áudio apenas. Copiar e colar áudio é suportado, e os arquivos podem ser carregados a partir do iTunes no seu iPad, loops gravados e exportados de volta para o iTunes ou colado em outro lugar. No momento você só pode gravar até 8 loops de bar e carregar um arquivo de uma só vez. Seria incrível ser capaz de carregar dois arquivos e tem uma configuração mais DJ-like. Há também AudioBus e apoio Jack.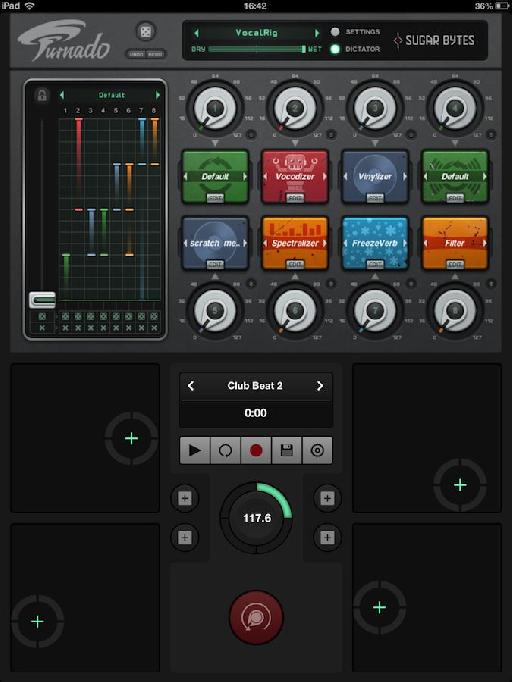 Use o modo de ditador para controlar todos os efeitos de uma vez.
Turnado tem mais um truque na manga, que é o modo de ditador. Aqui, você pode definir os níveis de efeito em pontos específicos em uma grade e, em seguida, usar um único fader para manipulá-los todos de uma vez, tornando-se uma ferramenta muito legal performance. Turnado é uma ferramenta de deturpação de áudio incrivelmente poderoso para o iPad, com uma boa profundidade de recursos de edição e algumas opções inteligentes de E / S. A capacidade de trabalhar com mais de um ciclo de uma só vez tornaria inigualável, por isso espero que este pode ser adicionado no futuro.
Web: