If you want to super-charge your NI Reaktor experience, you owe it to yourself to check out Twisted Tools. Their new MSMAX, a powerful Mid/Side Matrix, is examined by G. W. Childs.
Si ya has volado a través de todos los objetos valiosos en las instituciones nacionales Komplete 9, y están de vuelta a la búsqueda de más Reaktor, es posible que desee leyendo. Por fuera de las páginas de su mayoría blanco y negro de la página web de NI, hay otros proveedores de Reaktor por ahí que ofrecen algo de bondad que puede no haber encontrado antes. Un ejemplo sería Herramientas Twisted que han lanzado recientemente un potente Maximizer nueva Reaktor basado y Mid / Side Matrix conocido como MSMAX.
¿Cuáles son los beneficios para MSMAX? Siga leyendo y así verlo juntos.
Maximizer
Como un maximizador, MSMAX es más que impresionante. Tanto si lo usa para dominar, o en un mono individual, o la pista de música, MSMAX hace un muy impresionante trabajo de llevar a cabo los detalles y los matices sutiles que pueden no haber sido aún notable. MSMAX es bueno tanto para la finalización sonido natural o la maximización extremadamente duras que realmente puede tener un bucle y hacer que suene como otra vuelta ... Un bucle mucho, mucho más dura y más grande. No joder.
Cuando se agrega en la funcionalidad de la cadena lateral, que es a la vez simple y flexible, puede encontrar rápidamente y de repente usted crianza MSMAX ... Mucho. Cuando digo flexibles, Im refiriéndose a las múltiples fuentes de disparo de las cadenas laterales que pueden ser utilizados para eludir el audio en condiciones normales, y las formas más imaginativas. En realidad, hay cuatro modos totales, incluyendo audio, para el uso de una señal externa, y yo, que introduce un pulso de 1/4 de nota que se sumará pulsantes ritmos automáticos de la cadena lateral en el audio entrante.
Personalmente, me quedé muy impresionado con el modo MIDI, que simplemente toma el pulso MIDI desde una pista MIDI entrantes por separado, y se aplica es como un disparador de la cadena lateral. Esto es maravilloso, ya que elimina la necesidad de, por ejemplo, configurar bombos que nunca serán escuchadas, para fuente de un efecto de atenuación rítmica en un trance, house, dubstep o pista. En su lugar, sólo tiene que grabarse tocando teclas MIDI audio pato. De hecho, esto fue increíblemente fácil de configurar en Ableton Live. Y, sí veo a mí mismo usando MSMAX regularidad para esta operación exacta ... Y, más.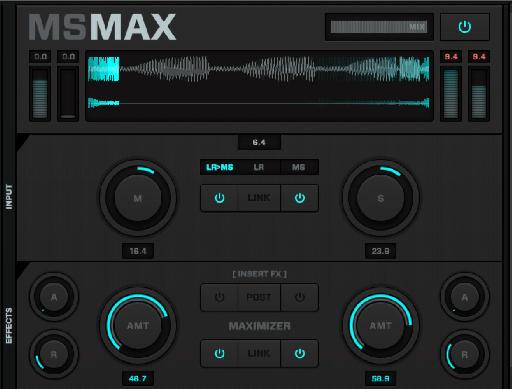 M / S
MSMAX también trae M / S (Mid / Side) de codificación y decodificación de la mesa, lo que le brinda la capacidad de hacer algo maravilloso alteración de la imagen estéreo. En serio, si youd como para hacer que el sonido bassline más estrecho, o una mezcla final mucho más amplio, youll encanta esto.
MSMAX también le da la posibilidad de introducir otros efectos que el incorporado en efecto maximizador. También puede agregar efecto de inserción desde Reaktors biblioteca fábrica. Incluso hay un built-in de ejemplo reverb, llamado NanoVerb, que se puede experimentar. Trate de aplicar un poco de reverb a un canal lateral, dejando el canal semiseco. Puede ser realmente cool.

Conclusión
Ive realmente lo pasamos de maravilla trabajar con MSMAX. Mis latidos suenan más grande, mi voz suena más grande, y mis mezclas de sonido más grande. ¿Qué más se puede pedir? Y, en una etiqueta de precio de $ 39, teniendo en cuenta lo mucho más grande que lo hace todo. Bueno, youd estar loco para dejarla pasar. Cabe señalar que MSMAX no funciona con reproductor de Reaktor, y requiere Reaktor 5.8.
Oh, y viene con plantillas Lemur. Sí, nos gusta Herramientas Twisted.
Web: