If you want to super-charge your NI Reaktor experience, you owe it to yourself to check out Twisted Tools. Their new MSMAX, a powerful Mid/Side Matrix, is examined by G. W. Childs.
Se già avete soffiato attraverso tutte le chicche di Nis Komplete 9, e sono tornati alla ricerca di più Reaktor, si consiglia di leggere. Per fuori delle pagine per lo più in bianco e nero del sito NI, ci sono altri fornitori di Reaktor là fuori che offrono qualche bontà che non può avere incontrato prima. Un esempio potrebbe essere strumenti di torti che hanno recentemente rilasciato un potentissimo Maximizer nuovo Reaktor base e Mid / Side Matrix conosciuto come MSMAX.
Quali sono i vantaggi per MSMAX? Continuate a leggere, e bene controllare fuori insieme.
Maximizer
Come Maximizer, MSMAX è solo impressionante. Se lo si utilizza per il mastering, o su un mono individuale, o traccia stereo, MSMAX fa già un impressionante lavoro di far emergere i dettagli e le sottili sfumature che potrebbero non essere nemmeno stati notevoli. MSMAX è un bene sia per la messa a punto dal suono naturale, o estremamente dure massimizzazione che può davvero prendere un loop, e rendere il suono come un altro ciclo ... Un molto, molto più dura e più grande ciclo. Non avvitare intorno.
Quando si aggiunge la funzionalità side-chain, che è allo stesso tempo semplice e flessibile, si può rapidamente e improvvisamente ritrovi fanalino MSMAX ... Un sacco. Quando dico flessibile, Im riferendosi alle molteplici sorgenti di trigger della catena laterale che possono essere usati per l'anatra l'audio in condizioni normali, e modi più fantasiosi. In realtà ci sono quattro modalità totale, inclusi audio, per l'utilizzo di un segnale esterno, e di auto, che introduce un 1/4 di nota impulso che aggiungerà pulsare automatiche, i ritmi della catena laterale nel vostro audio in ingresso.
Personalmente, sono rimasto estremamente colpito con la modalità MIDI, che prende semplicemente un impulso MIDI da una traccia MIDI in entrata separata, e si applica è come un trigger della catena laterale. Questo è meraviglioso, in quanto riduce la necessità di, per esempio, impostare grancasse che non potrà mai essere ascoltato, solo per sorgente un effetto ducking ritmico all'interno di una trance, house, o traccia dubstep. Invece, è sufficiente registrare se stessi giocando tasti MIDI che audio anatra. In realtà, questo è stato incredibilmente facile da impostare in Ableton Live. E, lo faccio vedere io usando MSMAX regolarmente per questa operazione esatto ... E, di più.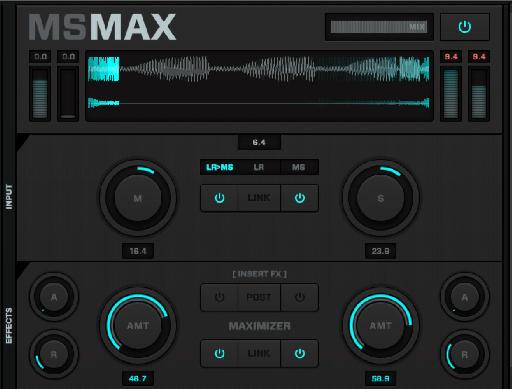 M / S
MSMAX porta anche M / S (Mid / Side), codifica e decodifica per la tavola, che vi offre le capacità di fare un po 'meraviglioso alterazione dell'immagine stereo. Scherzi a parte, se youd come fare quel suono bassline più stretto, o un mix finale molto più ampio, youll love this.
MSMAX ti dà anche la possibilità di introdurre effetti diversi dal built-in effetti Maximizer. È inoltre possibile aggiungere effetti insert in da Reaktors biblioteca fabbrica. C'è anche un built-in ad esempio riverbero, chiamato Nanoverb, che si può sperimentare. Provate ad applicare un po 'di riverbero ad un canale laterale, lasciando il canale a metà asciutto. Si può ottenere davvero cool.

Conclusione
Ive ha avuto davvero un colpo di lavoro con MSMAX. I miei battiti suono più grande, la mia voce suona più grande, e le mie miscele sembrare più grande. Cosa si potrebbe chiedere? E, ad un prezzo di $ 39, considerando quanto più grande si fa tutto. Beh, Sareste matti a passare in su. Va notato che MSMAX non funziona con lettore Reaktor, e richiede Reaktor 5.8.
Oh, e viene fornito con modelli di Lemur. Sì, ci piace Tools intrecciati.
Web: