In the continuing quest for a more "analogue" sound, U-He have released Satin, a tape machine from the Golden Age for all us software-heads! Hollin Jones discovers its multi-faceted uses.
C'est drôle de penser que, après avoir passé des années à essayer d'obtenir des enregistrements numériques plus propres et plus propres, de nombreux producteurs ont réussi, alors pensé er, qui sonne un peu clinique fait, et a commencé à chercher des moyens pour apporter chaleur et le caractère de retour dans leurs sons. Si vous avez les fonds, puis suivi par engrenage analogique ou sur bande est incroyable, mais pour les 98% d'entre nous qui ne faites pas, le logiciel peut être une excellente alternative.
Lisse comme
U-Hes Satin est un plug-in de détail 129 $ que les modèles de la sonores de la bande ainsi que retard de bande et prend en charge une résolution interne de jusqu'à 384 kHz VST / AU. Bien que d'autres simulateurs de bandes uniquement modéliser quelques variantes, Satin bénéficie à la fois vintage et les modèles modernes de bande plus une combinaison presque infinie de commandes qui vous permettent d'obtenir à peu près n'importe quelle bande son que vous aimez. Dans la partie supérieure de la fenêtre sont les niveau d'entrée et de sortie des boutons que vous pouvez utiliser pour contrôler le disque le signal est entraîné. Theres également un gain de maquillage et softclipping pour vous permettre de pousser les choses un peu plus difficile.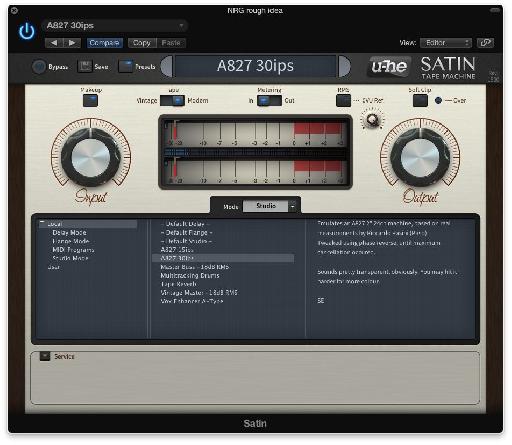 Choisissez parmi les nombreux préréglages groupés pour les sons individuels ou la maîtrise de pistes entières.
L'effet peut être utilisé dans plusieurs modes: studio, retard et flanger, chacun avec son propre ensemble de contrôles. Studio est le mode que vous utilisez pour affecter le caractère du son plutôt que d'introduire nécessairement des effets extrêmes, disons par exemple l'échauffement une piste de batterie ou encore la maîtrise de l'ensemble d'un projet. J'utilise fréquemment simulation de ruban à travers le bus maître de mon DAW pour composer dans un peu de chaleur supplémentaire et de punch, juste assez pour coller le tout bien. Un bon son de la bande est en mesure de le faire, et ici ya même une fonction Groupe de sorte que vous pouvez apporter plusieurs instances ensemble.
Vous pouvez modifier la vitesse et la pré-accentuation de l'effet de bande, les deux qui affectent le traitement du son, et theres également un COMPANDER. Il s'agit d'une simulation des anciens systèmes de réduction du bruit qui sert à être utilisé avec des platines cassettes pour réduire le souffle. En réalité, ils peuvent vraiment changer le caractère d'un signal et utilisé de façon créative, ils peuvent ajouter une sorte de compression à chaud ou l'accent sur le son. Ici vous pouvez choisir un codeur et le type de décodeur, et il offre des résultats satisfaisants.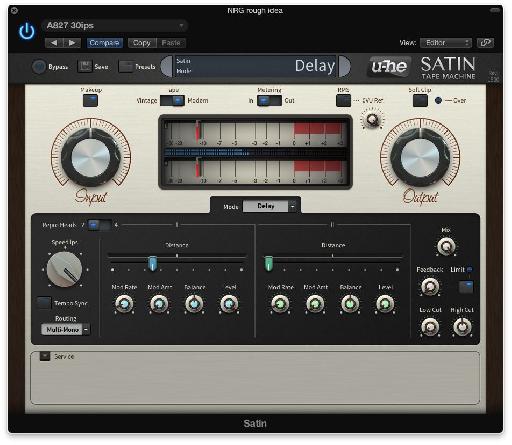 Chacun des trois modes a son propre jeu de commandes.
Effets spéciaux
Délai et le mode de bride sont également excellents, avec des contrôles complets et la possibilité de synchronisation au tempo et choisir entre deux ou quatre bandes chefs repro. Le panneau de service à la base vous permet de contrôler les imperfections inhérentes à bande tels que wow et scintillement, sifflement, la diaphonie, les préjugés et bosse. Bien sûr, si vous appliquez un grand nombre de ceux-ci vous allez dégrader délibérément le signal, ce qui pourrait être ce que vous visez pour. Utilisé de façon plus subtile, ils ajoutent un élément humain, une très légère incertitude au son qui peut apporter un sentiment de retour à la réalité sons qui auraient pu être générés uniquement dans le domaine numérique.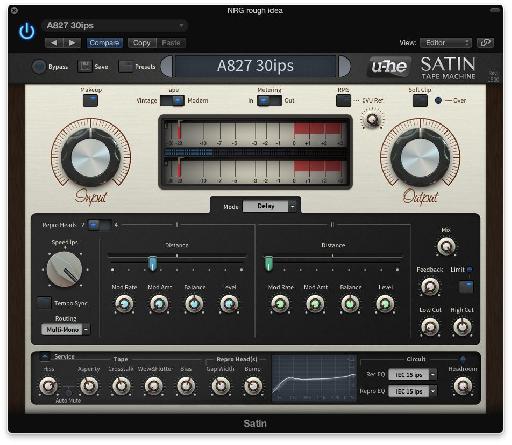 La zone de service à la base vous permet de composer des imperfections comme sa, wow et scintillement.
Dernières pensées
Les presets sont très bonnes et j'ai particulièrement aimé les nombreuses configurations de mastering et les sonorités classiques retards de bande, qui travaillent sur un large éventail de sources. Ce n'est pas particulièrement un effet diffcile d'apprendre ou utilisent et les simulations de bande que vous pouvez réaliser sont parfaits pour l'échauffement des voix, des tambours, des clés ou des pistes entières. Utilisé comme un effet plus extrême, c'est un sondage retard trop cool. Si vous êtes dans le marché pour le son de la bande, sans les tracas de posséder une véritable machine de bande, vous ne regretterez pas loin de la vérité avec Satin.
Web: