In the continuing quest for a more "analogue" sound, U-He have released Satin, a tape machine from the Golden Age for all us software-heads! Hollin Jones discovers its multi-faceted uses.
É engraçado pensar que depois de ter passado anos tentando obter gravações digitais mais limpas e mais limpas, muitos produtores conseguiram isso, então pensei que er, que soa um pouco clínico na verdade, e começou a procurar maneiras de trazer o calor eo caráter de volta para os seus sons. Se você tem os fundos, então rastreamento através engrenagem analógica ou em fita é incrível, mas para os 98% de nós que não, o software pode ser uma excelente alternativa.
Suave como
U-Hes Satin é um VST / AU plug-in de varejo de US $ 129 que modela o som da fita, bem como delay de fita e suporta uma resolução interna de até 384 kHz. Embora alguns outros simuladores de fita só modelar um par de variantes, cetim possui vintage e modelos de fitas modernas, mais uma combinação quase infinita de controles que permitem obter praticamente qualquer fita som que você gosta. Na parte superior da janela são o nível de saída de entrada e botões, que você pode usar para controlar o quanto o sinal é conduzido. Há também o ganho de maquiagem e softclipping para deixá-lo levar as coisas um pouco mais difícil.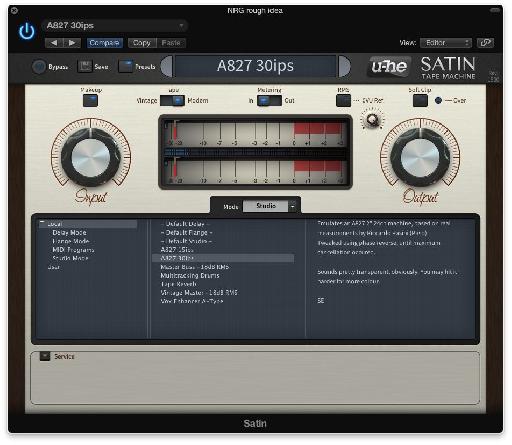 Escolha um dos muitos pacotes de presets de sons individuais ou dominar faixas inteiras.
O efeito pode ser usado em vários modos: estúdio, atraso e flanger, cada um com seu próprio conjunto de controles. Studio é o modo que você usa para afetar o caráter do som ao invés de necessariamente introduzir quaisquer efeitos extremos, digamos, por exemplo, aquecer uma faixa de bateria ou mesmo dominar um projeto inteiro. Eu freqüentemente usam simulação de fita através do buss mestre do meu DAW para discar um pouco o calor extra e socos, apenas o suficiente para colar tudo muito bem juntos. Um som de fita boa é capaz de fazer isso, e aqui há até mesmo uma função de grupo para que você possa trazer várias instâncias juntos.
Você pode alterar a velocidade e pré-ênfase do efeito da fita, a qual afecta o processamento do som, e há também um Compander. Esta é uma simulação dos sistemas de redução de ruído de idade que costumava ser usado com leitores de cassetes para reduzir chiado. Na realidade, eles podem realmente alterar o caráter de um sinal e usado de forma criativa, eles podem adicionar uma espécie de compressão quente ou ênfase ao som. Aqui você pode escolher um codificador e decodificador tipo, e oferece resultados agradáveis.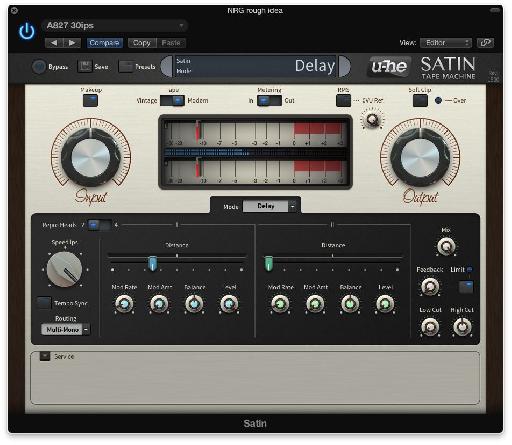 Cada um dos três modos tem seu próprio conjunto de controles.
FX Especial
Delay e modo de flange também são excelentes, com controles abrangentes e capacidade de Tempo Sync e escolher entre dois ou quatro cabeças de fita repro. O painel de serviço na base permite que você controle as imperfeições inerentes a fita como wow e flutter, silvo, crosstalk, preconceito e colisão. Claro, se você aplicar um monte deles você vai deliberadamente degradar o sinal, o que poderia ser o que você está buscando. Usado de maneira mais sutil, eles adicionam um elemento humano, uma ligeira incerteza ao som que pode trazer uma sensação de realidade volta a sons que poderiam ter sido gerados exclusivamente no domínio digital.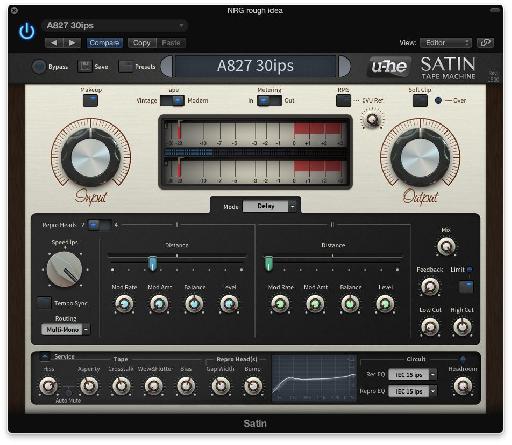 A área de serviço na base permite que você discar imperfeições como o dele, Choro e flutuação.
Considerações finais
Os pré-ajustes são muito bons e eu particularmente gostei das muitas configurações de masterização eo clássico som atrasos de fita, que trabalham em uma ampla variedade de fontes. Não é um efeito particularmente dificil para aprender ou usar e as simulações de fitas que você pode conseguir são perfeitos para aquecer os vocais, bateria, teclas ou faixas inteiras. Usado como um efeito mais extremo, é um atraso legal sonoridade também. Se você estiver no mercado para o som da fita, sem o incômodo de possuir uma máquina de fita real, você não vai dar muito errado com cetim.
Web: