Imagine being able to create your own custom LFOs… in a plug-in… apply them to various effects and even integrate this with your DAW. Imagine no longer! Xfer LFO Tool does all this now!
LFOtool xfer é um plugin pequeno nifty que permite criar formas personalizadas LFO e aplicá-los a construiu vários efeitos. Isso pode soar como apenas um outro plugin FX, mas também tem alguns truques bastante inteligente na manga que pode lhe interessar.
Para esta revisão Im usando o Beta 1.1 16 uma vez que apresenta alguns acréscimos importantes para AU.
O Básico
LFOtool pode ser inserido como qualquer plugin FX outro. Uma vez aberto, você verá um gráfico onde você pode criar seus LFOs. Há 12 gráficos disponíveis, todos que pode conter uma forma única. Sob o gráfico são um conjunto de parâmetros globais para coisas como valores suavização das taxas, e Snap.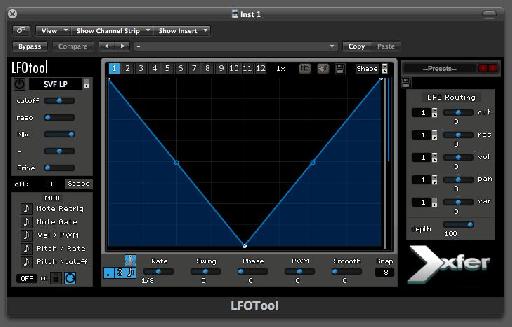 Você pode selecionar formas básicas de LFO para cada gráfico no menu de forma.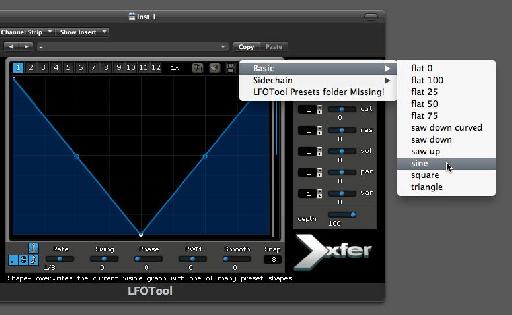 À direita, você pode encaminhar qualquer um dos 12 gráficos para cinco destinos de modulação. Vol, Pan e três efeitos parâmetros. Efeitos são carregados no painel superior esquerdo. Ill começar com um simples filtro passa-baixa.
Se eu aumentar a quantidade de gráfico 1 para o corte sobre uma onda Saw simples eu conseguir isso.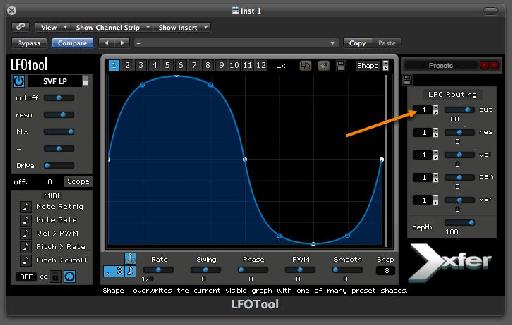 [Audio id = "16334"]

Você começa a idéia. O legal é não estou limitado a apenas filtros. Há uma infinidade de efeitos disponíveis a partir de Filtros pente, Moduladores Ring, phasers, reverb e Flangers para escolher.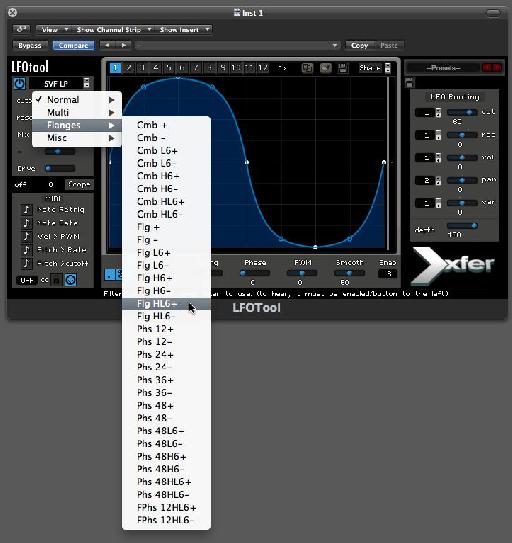 Ainda mais legal é que eu posso criar minhas próprias formas ou escolher entre uma das predefinições de muitos e atribuir isso ao Flanger e criar alguns bons efeitos flanger rítmicos. Algo que você não vai encontrar em plugins de modulação regulares.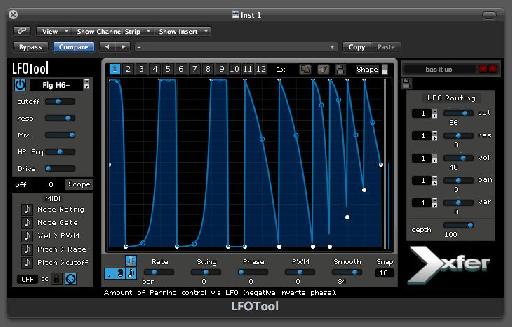 [Audio id = "16331"]

Jogando com o MIDI
LFOtool também pode ser usado como um Effect MIDI controlado. Neste caso, você carregá-lo como um instrumento de software e enviar o seu áudio em via cadeia lateral. Isso abre um monte de recursos legais.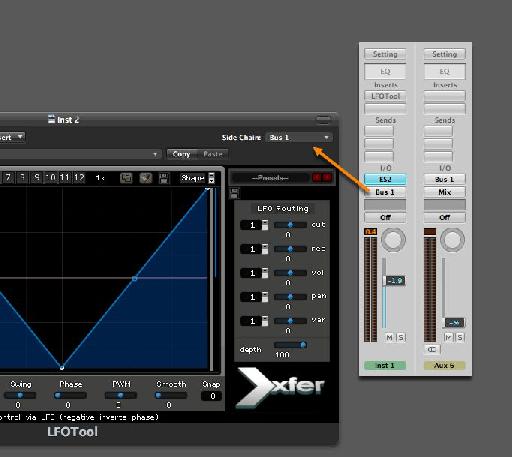 Por exemplo, os números de nota 0-11 irá alterar o número de gráficos (1-12) a ser enviada para o encaminhamento de corte. Isto significa que você pode modular a corte com um monte de diferentes formas de LFO e ritmos. Nota Os números 12-23 enviará o número de Ressonância gráfico 1-12 e assim por diante.
Seleção de pitch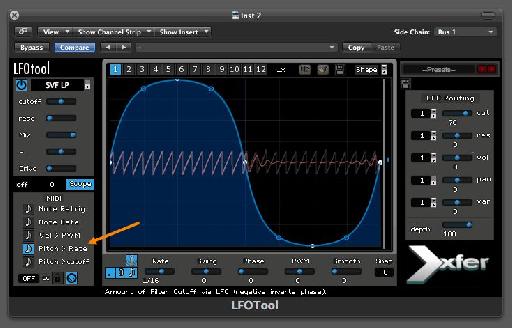 [Audio id = "16330"]
Muito para jogar com aqui!
Agora para o material inteligente!
A única coisa que realmente separa LFOTool do pacote é a sua capacidade de exportar LFOs como arquivos MIDI (na forma de dados de controle). Enquanto o seu DAW está jogando, é só usar o ícone de arrastar MIDI em seu sequencer. Isto irá usar o gráfico atribuído Cutoff como referência.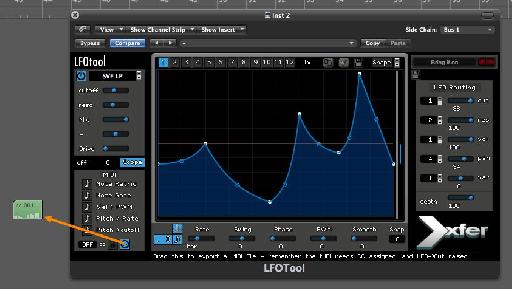 Você pode ver a forma LFO dentro da parte MIDI aqui em Lógica.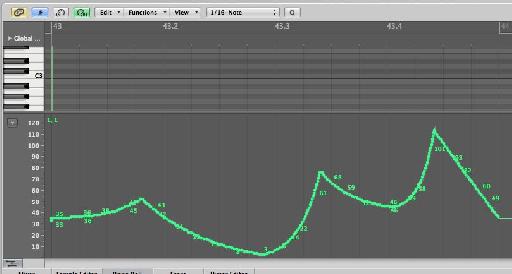 Isto significa que você pode usar esses dados LFO controlador para efetuar outras faixas também. Você também pode converter isso em números de controlador outros em sua DAW.
LFOTool leva um passo mais longe, realmente enviar esta informação LFO para o Bus IAC como MIDI. Este viaja todo o Back da sua DAW e chega na entrada! Basta escolher um número de controlador.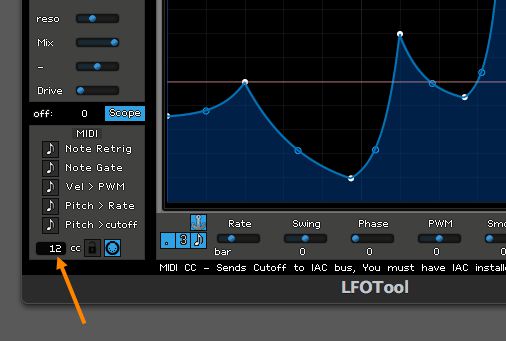 Aqui você pode ver CC12 voltando para Logic!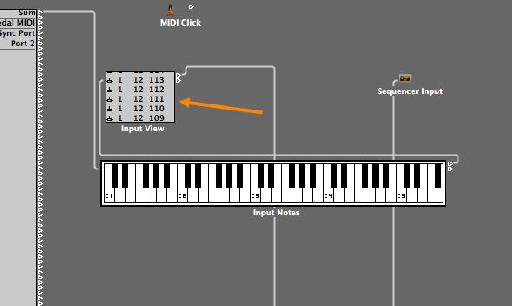 Usando um transformador que você poderia esta rota LFO a qualquer parâmetro do plugin que você gosta. Útil para aqueles que não têm acesso a LFOs! Dizer como o Wah em Pedalboard, basicamente qualquer coisa que você pode imaginar!
Para mim, este é um recurso fantástico! Envio de MIDI a partir de plugins UA sempre foi um não-não, mas Xfer ter rachado com essa idéia!
Tudo em tudo um plugin útil e criativa e vale a pena conferir!
Descubra mais sobre LFOTool Xfer aqui .