Zoom has dubbed the Q4 the '˜Camera For Musicians'. How did it hold up under a typical week of work on various musical endeavors? Read on to find out!
The Vitals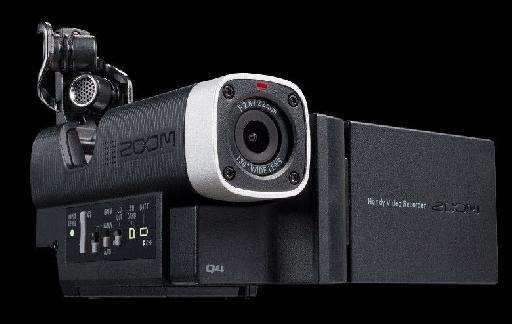 The Zoom Q4 boasts a fixed f/2.8 lens with a focal distance of about 22 mm. That's wide enough to capture a whole band at a respectable distance. It shoots 1080p at 30 fps, and can shoot 720p at 60 fps for some sweet slow-motion shots. The camera is capable of recording audio in WAV format at 24-bit/96 khz as well as AAC format from 64-320 kbps at a 48 kHz sample rate. The built-in mic is in a fixed X/Y stereo 120 degree format. It folds down for safety during transport and then snaps up for use. What does this all mean to us musicians? All good things. Allow me to delve further'¦
The Video
The video quality was very good for a camera in this price class. 3-megapixel sensor sized cameras typically can perform very well in good lighting and can be a bit noisy in low light. I found the Q4 to extend into the lower light range a bit more smoothly than most portable video recorders; but it's still a much smaller sensor than a DSLR. If you're going to be mixing this with full-frame DSLR footage, you'll want to make sure it's lit up well.
The Audio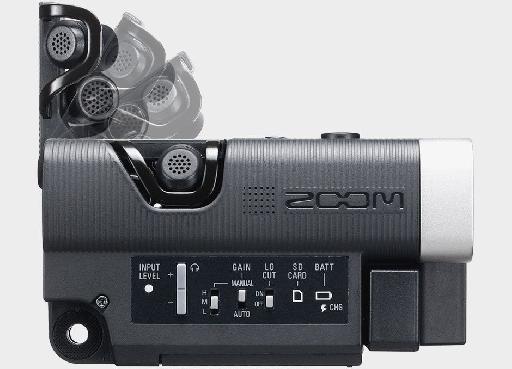 The microphone array folds down for transport and snaps up into the perfect X/Y configuration for recording a stereo field.
Zoom has a strong pedigree of field recorders. The Handy '˜H' series field audio recorders are pretty much required in the arsenal of any DSLR filmmaker these days. I expected the Q4 to have good audio. I was wrong. The Q4 has SUPERIOR audio.
I mounted the Q4 on a clamp mount attached to a drum set. I wasn't planning on keeping any audio from it, I was simply using it as a 3rd angle on a 3-camera shoot which I multi-tracked. I was in for a real surprise when I loaded the audio into my computer. The 2 other cameras, placed about 15 feet away from the drums, had a horrible mess of clipped audio that looked like I was analyzing the sound of a jet engine turbine. The Q4's audio was pristine. Not a single clip. It didn't even sound squashed or compressed.
I was blown away. Surely, I must have set some sort of pad or volume attenuator on the Q4 that was made for this situation. I looked'¦ and it was on '˜auto'. Those of you who have used DSLR cameras to film musical events will likely know '˜auto' to really mean '˜extremely EXTREMELY compressed and limited sound'. This is not so with the Q4. The Q4 handled an extremely hard-hitting drummer from 2 feet away like a pro.
The Features
After hearing the audio come out of the Q4, I came to the realization that I now had a camera I could take to gigs and actually get some representative sound of the night. To be truthful, I didn't really care much about what other features they packed into this thing. Then I dove into the manual and saw what else was offered.
The Q4 has the ability to plug directly into your computer and act as a webcam. You can even plug it into an iOS device with the camera connection kit and live stream your gig with your favorite iOS streaming software. It has a line/mic stereo input jack for use with external mics (but after hearing the built-in ones I'm not sure you'll want to).
The 2.0' full color LCD display is completely adjustable and even detaches from the unit. The Q4 has a built in battery that lasts about 2-3 hours depending on your format. There is an HDMI output for connection to HDTVs (NTSC or PAL). The camera is compatible with all three-prong action camera mounts, giving you an incredible array of mounts to use with the Q4. There are even a few unique mounts for use with mic stands, guitar heads and the like.
Conclusion
In case you can't tell already, I love the Q4. I tried it out with a very loud drummer, with a staged musical rehearsal and with an acoustic guitarist and it performed admirably on all three. If you're looking for a quick and easy camera that will hold up to the loudest band and give you good quality footage'"look no further.
Price: $299.00
Pros:
Wonderful sound quality at VERY high SPLs
Extremely easy to use
USB streaming capability with computers and iOS devices
Hardware buttons for important functions
Fits easily in your pocket
Cons:
None to speak of
Website: https://www.zoom-na.com