Want to build a cool website but not a fan of typing code? Adobe's Portfolio could be just what you're looking for. And if you subscribe already, it could even be free!
A couple of weeks ago I took a look at my professional portfolio on my iPhone. It was only then that I realized my site looked 'old' and was not even 'responsive' (it didn't adjust to fit an iPhone window). This started me on a quest to find another host for my site and to redo it with today's technology. Since I don't write code and wanted something that was easy, and drag and droppable, I looked at Squarespace, WIX and Adobe Portfolio.
Although I thought all three were good, viable solutions for my problem, I decided to go with Adobe Portfolio because it came FREE with Creative Cloud. I figured since I was paying all this money for CC anyway, why not get something else out of it? Turns out it was one of the best freebies I've ever taken advantage of.
First Steps
To get started I went to myportfolio.com. The first thing I noticed was that there were many, many different templates to choose from.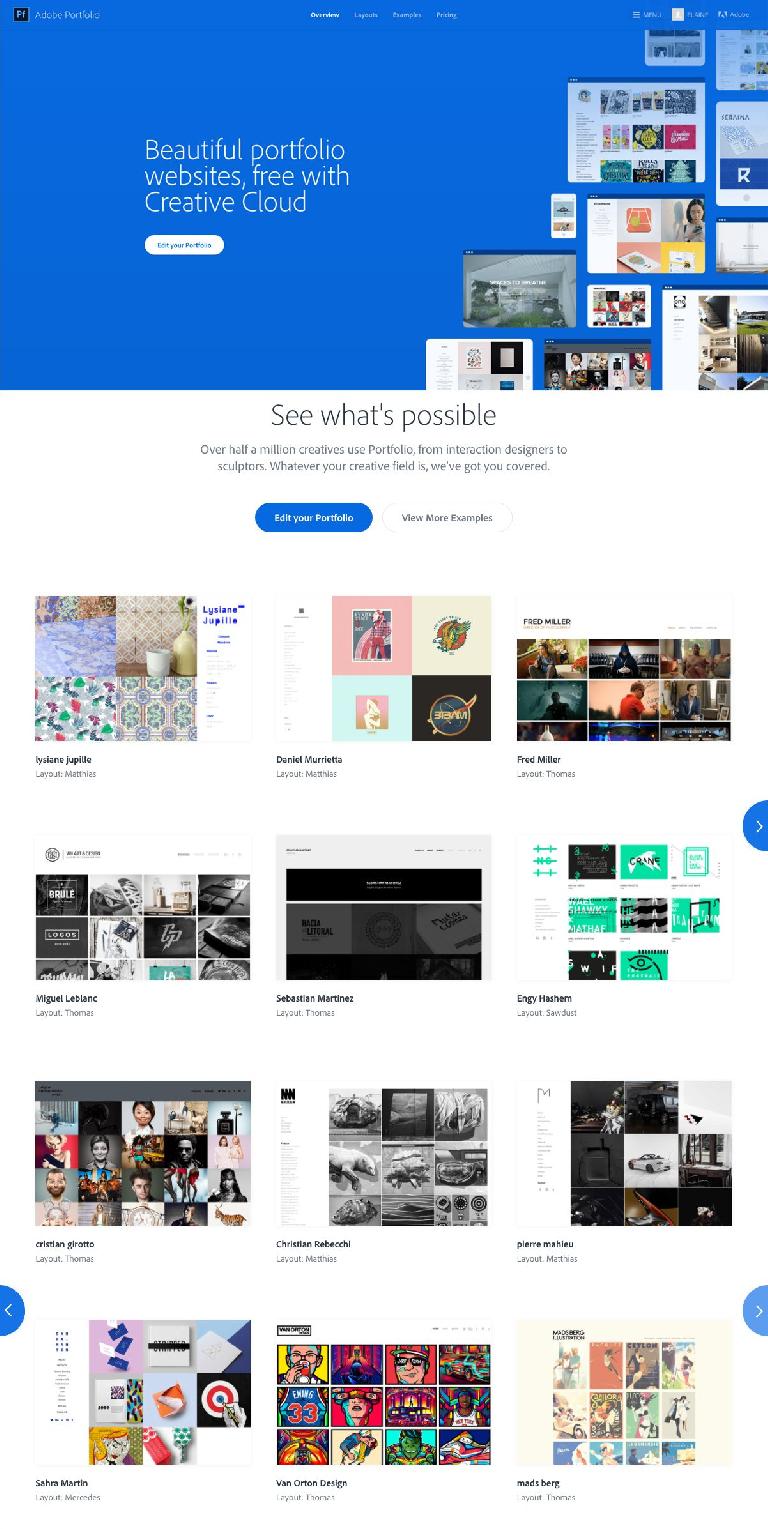 I went through each of them individually before deciding that the template named Matthias best suited my needs. I liked that it had a nav column down the left hand side and a lot of space on the right to feature my advertising work.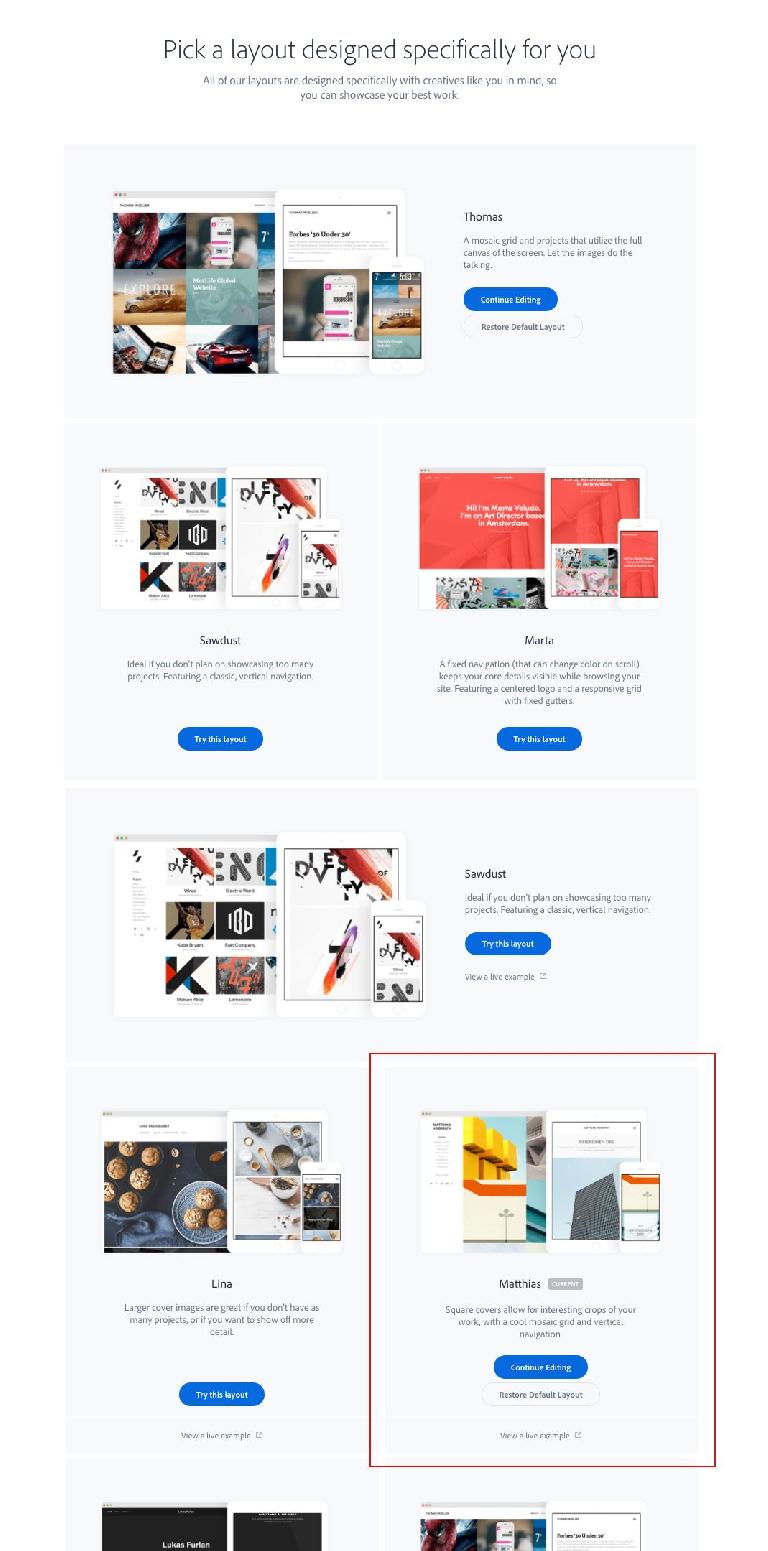 What does Adobe Portfolio gives you?
Opening up the Matthias template, I noticed that Adobe Portfolio had pre-populated my name into the nav section on the right. While I didn't particularly like the font, I liked that it knew who I was. I also took a quick assessment of the features. Over to the left there were four icons. I clicked on them, one at a time, to see what they did. (Through the magic of Photoshop, I have them all open here). The top button adds content, the second button manages content, the third button edits your settings and the fourth one switches layouts.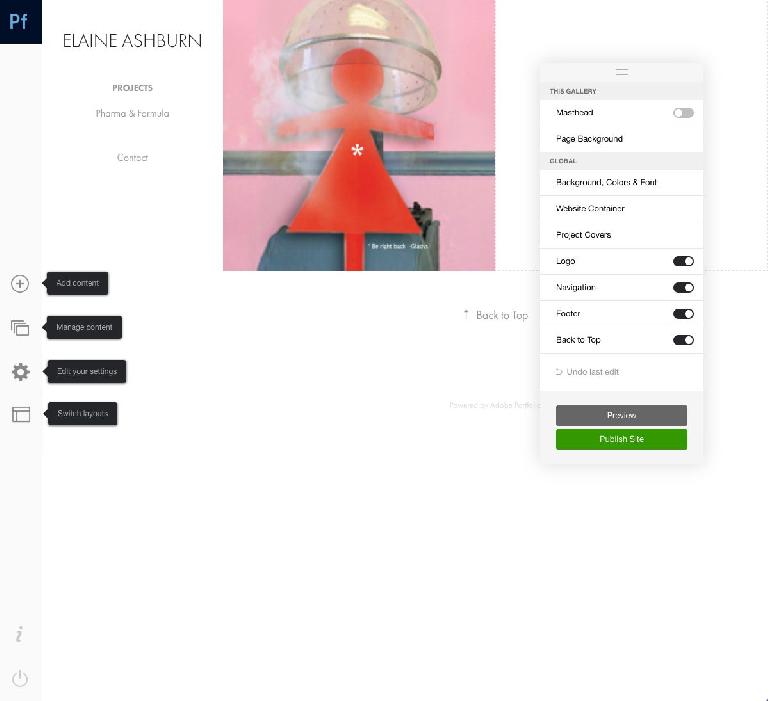 I clicked on the first one and immediately added some content. It brought a number of images into the 'Project' I had just named 'Pharma and Formula'. Playing with the Manage Content button, I saw I had options even at this point. I could add more content to my existing 'Project', begin a new project or create a contact page. I could also reorder my existing content. I chose to create a new 'Project'. I clicked on the 'Project icon' on image 4 and a new window popped up. Here I could name my new 'Project' and 'Create it'. I called it 'Interactive' and noticed that it populated my nav section with that name.

Just a note that before it let me exit my previous project, I was given the option of choosing an image from any of the elements I had uploaded to that 'Project' section. I chose a colorful representation, blew it up and said OK. It then put that image on my landing page.
A word of advice to make the process easier
I thought I should add some captions to my pieces to let viewers know what they were created for and that was where I got confused since I couldn't get back to the pop-up menu I had previously seen. I finally realized that not only did you have to click on the main 'Pencil icon' that appears to edit content but you have to click on the secondary pencil icons that appear too. Think of it as a box within a box; the first pencil opens the outside box and the individual pencils that appear once that first box has been opened allow you to edit the content within those internal boxes.

So now that I had a pretty good idea of what to do, I added captions to my pieces, created additional 'Projects' and had most of my site up within an hour. I was able to copy and paste my resume into a custom page where I could manipulate type and pretty soon I had a working website. I thought at this point I should take a look at how it would appear to an outside viewer so I clicked the 'Preview' button which was always available.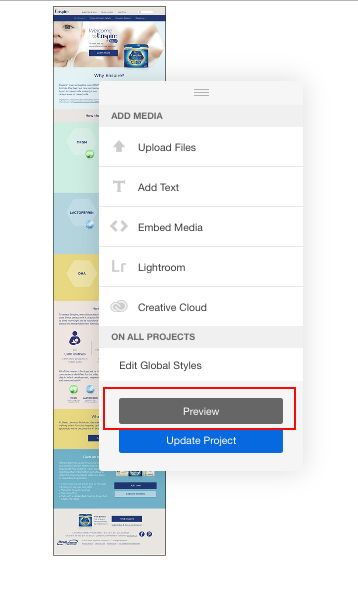 I thought it looked good but there were some things I felt needed some finessing. I decided to reorder some images, which was as simple as moving around the icons that appear after you click on the 'Reorder' button.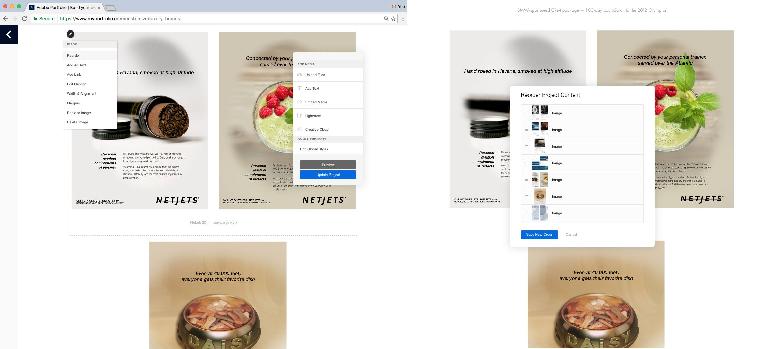 I also decided to edit some captions. This was done very easily by clicking on the 'edit captions' button and re-typing in the new content I wanted.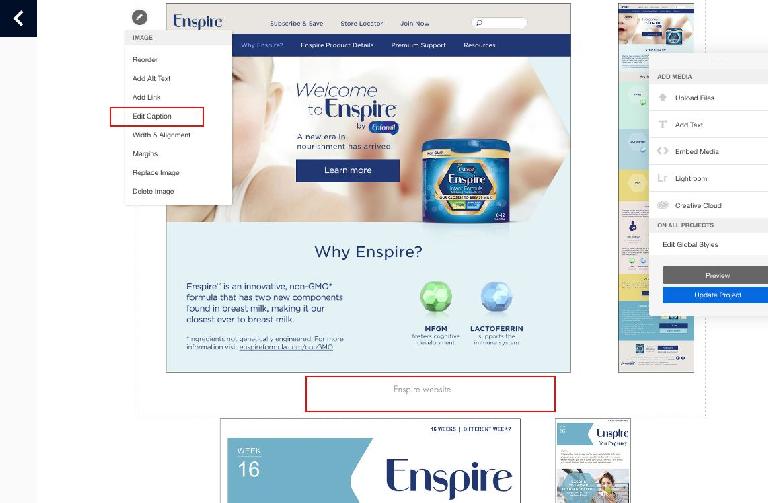 Finally, when I felt everything was as perfect as I wanted it to be but before going 'live' I decided to add meta tags, enter my Google Analytics ID, protect my content and create a domain name. I clicked on the 'Edit your Website' icon (the wheel) and systematically went through all of my criteria which were spelled out for me in easy to understand language. I also used the domain name that Adobe Portfolio created for me, although I do have the option to change this up to 5 times or use my own URL once I get the nerve to tell my existing host hasta luego.

Conclusion
All in all, Adobe Portfolio was easy to use, easy to make changes to and easiest of all, I had the ability to do all of this without knowing how to write a word of code. Great job on this one, Adobe. And in case you'd like to see how my landing page ultimately turned out Here is a screen snap of my live site.